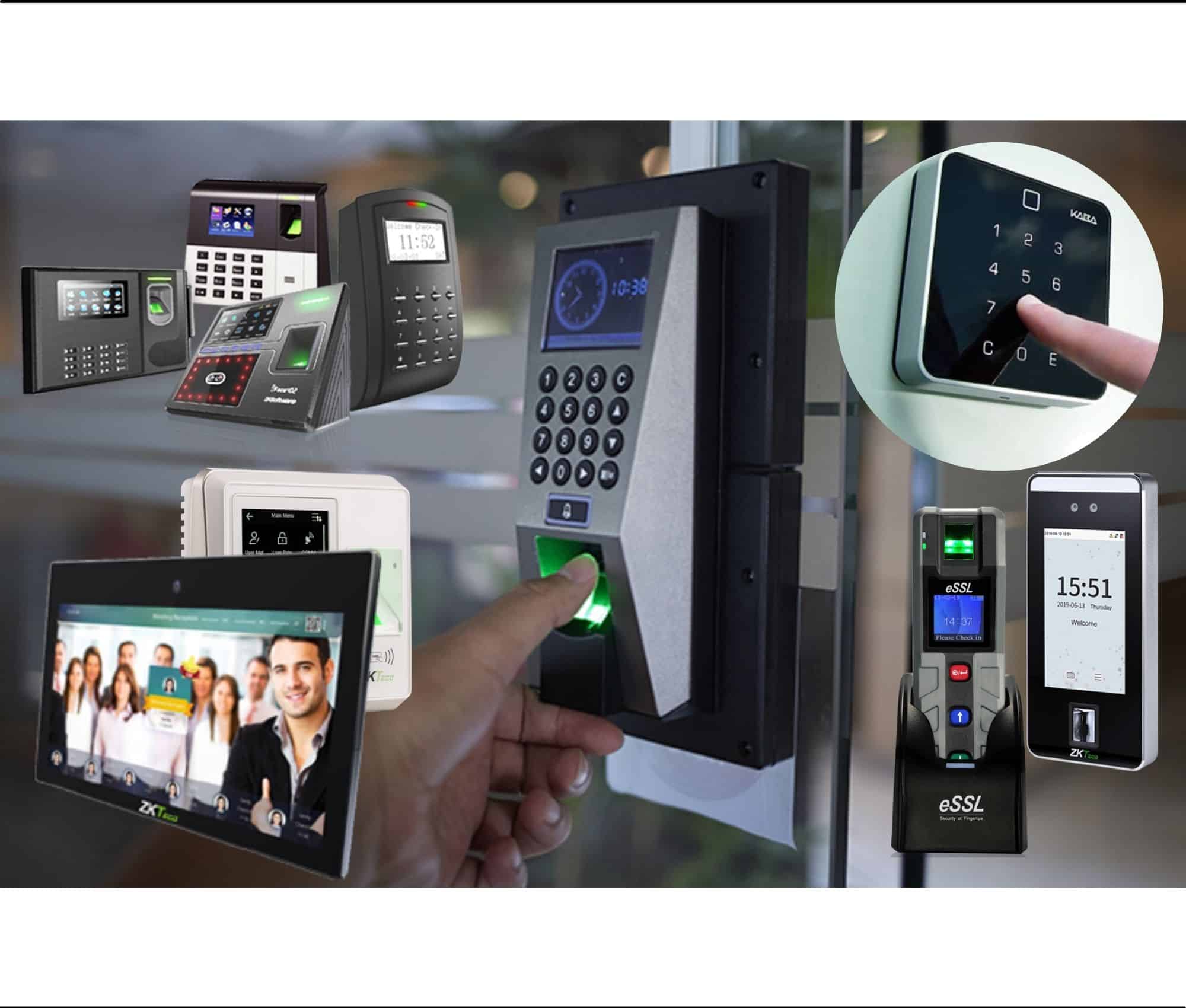 Access Control System Bangladesh
You definitely have a concern about who will access the data of your company. Who can take entry into your company and for whom you will give permission to take entry and who will be denied? These kinds of things can be done by adopting an access control system. Technology has spread out around the world, so Bangladesh is also walking with modern technology. Here we will focus on the access control and the access control system in Bangladesh.
What is Access Control?
The access control system is a way of determining the users who can use the company data and have access of entering to the company. In detail, every company has a restriction for their own security. No one can take entry to the company if they are not authorized people/employees of the company. But if the company authorizes people to use an access control system then the people can take entry and use the specific data.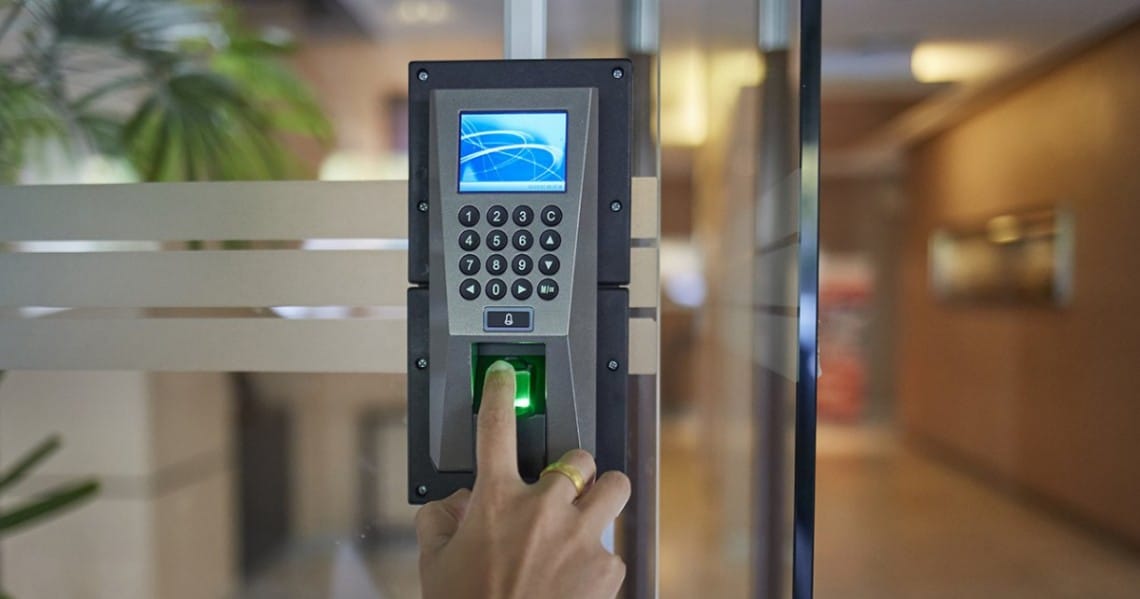 As an example, you possibly saw there is a mini device mounted on the wall beside the main door of an organization. If someone wants to enter the offices/room, they must give fingerprints or shows the ID card to take access. This is a system of access control. If someone tries to take access but if they are not authorized employees then they never can take access anywise.
Most of the access control works using fingerprints, ID cards/swipe cards, tags, etc. All the system works great to protect the restricted areas. You possibly realized access control is an electric system that works through networks.
Check Now: Fingerprint attendance machine price in Bangladesh
The Types of Access Control System
The access control system is classified by types, works, and price. Each model has a separate structure with individual features. Though the main purpose is to guard the restriction zone, yet all models are different from convenience and facility. Let's know the types.
The biometric access control system
This access control type particularly works for time attendance and fingerprint identification. The total user's activity records and organized by specific software. The biometric system uses a fingerprint system instead of the card system. This type not only permits for taking entry but also shows the data of the entry persons. Generally, many offices, organizations, private buildings use biometric access control for their controlled areas.
Proximity access control
This is the most confidential system that offers extra security. Most of the offices, factories, banks, and commercial places use this type as they require a strong security system. It comes in 50 time zones settings and 5 open door groups.
Door access control system
This is an affordable, compact, standalone access control system. At present, various organizations such as server rooms, homes, offices, airports, defense rooms, data centers use this kind of access control system. There is no tough mechanism that hampers its usability. Everyone can use it simply. Any electrician can easily install it without hazards.
It works both using fingerprints and cards. Secondly, a person can use both his/her fingerprint and cards. Let's look over the features of door access control.
Gives high security

Fast identification. Takes less than 1 second to identify a person.

Provide satisfying performance

Easy Maintenance 

Reduce administrative expenses.

Included multi features
Security access control system
You will find several options in the security access control system. As an example, the home security system can be customized to get individual and family requirements. All systems can be operated by burglar alarm system, closed-circuit TV video system, fire, and carbon monoxide detection system, card access and automation system, etc. 
This security system can be used at unlike places in the house that connect with a central control unit. The control unit connects the alarm and audiometric telephone dialer or internet connector to the monitor.
The Basic Components of an Access Control System
Without a few most of the access control comes with the same components. Its main purpose is to guard the restricted areas. That is why their components are the same. Let's look over the components.
Access cards: The aces cards are a way of getting access to use the door for entering.
Only a single card is enough for each person. Each access card encoded by each person's data. Most access cards are the same size look like ATM/credit/master cards and you can keep them in your wallet.
Card readers: The card reader works to read the access card. After matching the stored data with the card data, the card reader gives access. One type of this card reader might require "card insertion" to read the card. The second type needs air the cards from 3" to 6" far from the device to read the card's data. The reader device can be mounted beside the door on the wall.
Access control keypads: This device has several numeric keys that look like a smartphone key. To get access, the users need to press the secret keys.
Yet this kind of access control keypad works both invalid cards and secret numeric digits. Which organizations don't use access cards for the employees, must need to use keys to set up an access system.
Electric lock hardware: Electric lock hardware works using electricity to lock and unlock the door. This activity is run by the access control system. There are different kinds of electric lock hardware like electric locks, electromagnetic locks, electric strikes, and electric exits, devices, etc. Most buildings use electronic lock hardware at the entrance and in most secured places.
Access control field panel: This device is called also an "Intelligent controller". Which building uses access control such as card reader, electric lock hardware, and other types, this access control connects all the access controls types.
This is used to process access control activities at the building level. What number field panel a building will use depends on the door numbers. It is installed in telephone, electrical, or communication closets.
Access control server computer: This is the brain of the total access control system. This access control server computer serves as the central file manager and database to control the whole system.
It works also in the recording system and keeps the records and data on the server computer. A single server computer can inspect a large number of card-readers control doors. This activity runs by access control software. The server computer works full time.
Check Now: RFID Accessories in Bangladesh
Why Need to Use Access Control?
The main purpose of access control is to increase the safety of properties, buildings, etc. It's a small device but very powerful to protect you and your properties safely. It ensures safety with reliability. At present, people are showing interest in using access control for having multiple safety guarantees. Let's look over the reasons why you should use this device.
No more keys for the individual: You know it is definitely painful and expensive to make new keys for each employee. It could seem more painful especially when a new employee gets an appointment or start his job as you need to generate a new key for the new employee. Owning this wonderful device can relieve you from this pain.
Yes, you can use only a single access control for the entire employee. As a result, you do want to make the key for the individuals. Meant, once you bought it and install it at the workplace, it might go for a long run without extra cost.
Check Now: Best safety products in Bangladesh
Know your guest: Many organization like hospital, agency, banks, offices, business deals with a lot of clients and people. So there has a risk of damaging or stealing property. To keep safe all the assets, there needs to be a secured system for the restricted area where can go only the authorized persons. Using an access control system provides this security with reliability. This system detects who is at the door and who is coming. So you can understand whether the persons are known or unknown.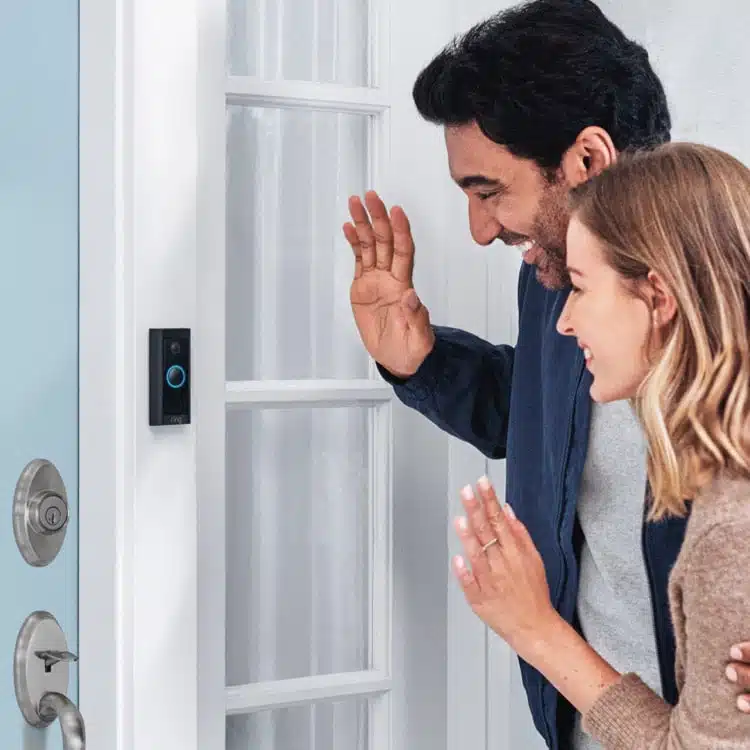 Moreover, no unauthorized people can take entry into the restricted area until you give permission. In a word, this device is brilliant for identifying the official and non-official people.
Secure sensitive info: Every organization has a secret meeting where no one can go without permission. If you install the access control system, nobody will be able to go there without the specific people. Nowadays, people are using the access control system in Bangladesh too in most of the offices.
Reduce the risk of accidents/ theft: Since the entire area is under the access control system, no outdoor people can't take entry easily without permission. In fact, all the employees are familiar with this device.
So they can sue it correctly where the unknown people can't use it properly and can't go inside the offices to occur any incident.
Top 10 Access Control in Bangladesh
In this section, we will highlight the 10 best access control in Bangladesh. You also get its features, short description, etc.
1. AC-2200(H) Virdi Access Control
Virdi AC 2200H outdoor smart fingerprint terminal has ARM9 CPU

32 MB NOR + 12 8MB NAND flash memory

64 MB fingerprint terminal RAM, 1000 user capacity

100000 log capacity, 1.77-inch color LCD display

Bluetooth / TCP / IP communication

12V maximum 500mAh power consumption and 58 X 191 X 62 mm dimensions.
2. ZKTECO TF1700 Access Biometric Control Access
Acrylic panel,touch sensitive buttons.

User card backup and copy functions.

Can external a card reader, or work as a reader.

Capacity:2000 user cards, 15 sets the valid password.

Door open options (admin user selectable):

ID card (keyring) only / password only / ID card (keyring) +password

Lock output: NO/NC

Professional design, great for home and office, comes with a user manual.
3. Realtime C121T Access Control Terminal
TCP/IP

RFID

Personal Identity Number

Backup Battery(Optional)

USB Link

USB Disk

Access Control

Fingerprint Scanner
 4
SN-K3 RFID Access Controller
Acrylic panel,touch sensitive buttons.

User card backup and copy functions.

Can external a card reader, or work as a reader.

Capacity:2000 user cards, 15 sets of valid passwords.

Door open options (admin user selectable):

ID card (keyring) only / password only / ID card (keyring) password

Lock output: NO/NC

Professional design, great for home and office, comes with a user manual.
5. Virdi SR-100FP RFID & Fingerprint Access Control
Virdi SR-100FP RFID & fingerprint slave reader access control

A

ntipas back ReaderCommunication – RS485

compatible with – AC2100 / AC4000

Fake finger detection, stand-alone anti-passback

Optical sensor and algorithm detects fake fingerprints made of paper/film/silicone and rubber, 

Anti pass-back

Anti-pass back

Mifare card reader embedded

Compatible with – AC2100 / AC4000 / AC5000
6. VIRDI UBio-X Advanced Iris & Fingerprint Terminal
Display: 5″Inch LCD Color Display

Max Users:200,000.

Fingerprint Templates: 400,000 (1:1),100,000 (1:N).

Iris Templates: 400,000 (1:1),40,000 (1:N).

Logs Capacity: 10,000,000.

Images: 20,000.

Communication: TCP/IP, USB

Authentication: Iris +Fingerprin
7. Zkteco F-18 Card & Finger Access Control
Zkteco F-18 Card & Finger Access Control is an innovative biometric fingerprint reader for access control applications. With high-performance firmware functions and compact design, it has become one of ZKTeco's most popular devices.
It is applied with ZKTeco's latest firmware with user-friendly UI and flexible user privilege settings for multi-level management. The new hardware platform uses a ZMM210 core-board with a 1.2Ghz CPU.
With the optimization of both the hardware platform and firmware, the new f18 access terminal is able to verify fingerprints with even higher efficiency.
The device offers the flexibility of both standalone installation and installation with any third-party access control panels which support standard Wiegand signal. TCP/IP and RS485 are also available which enable F18 to be applied in different networks.
8. ZKTeco F21 Lite Fingerprint Access Control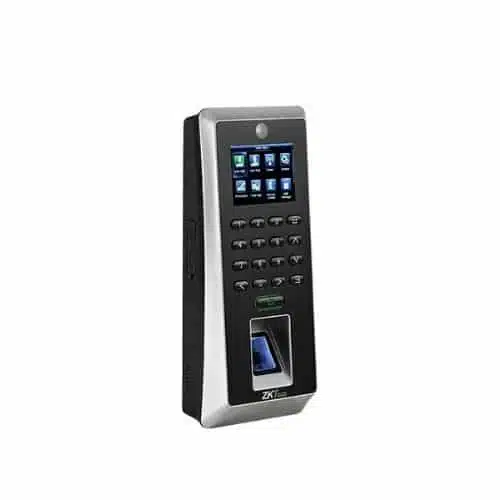 ZKTeco F21 Lite Fingerprint Access Control is the first time attendance and access control terminal applying the most advanced SilkID technology. It not only possesses an outstandingly high identification rate towards dry, wet, and rough fingers but also provides the utmost security by its live finger detecting capability. as well as photo taking function which enables attendance photo and Photo ID (optional).
9. ZKTeco FR1200 RFID & Biometric Reader
ZKTeco FR1200 RFID & Biometric Reader, a fingerprint reader with RS485 communication interface works with biometric access controllers fingerprint standalone access control

Including inBIO series controllers, F8, and so on.

It offers the function of capturing and transferring fingerprint samples to access the control panel.

With its IP65 rated rugged structure, FR1200 offers extra durability in all weather conditions including outdoor environments.
10. ZKTeco K-40H Access Control Terminal
ZKTeco K-40H biometric terminal is apt for recording the Time & Attendance of employees. It adopts BioID to collect fingerprints instantly with excellent recognition and internal WiFi for superb communication. The users can accomplish data via TCP/IP, Wi-Fi, and USB host port for data up/download to escape from the risk of unintentional deletion. Moreover, optional ADMS can attain remote data managing with our ZKTime.
From Where You will Get Access Control in Bangladesh
There are many access control systems providers in Bangladesh from where you will access control. But the concern is whether their products are genuine and affordable at prices. So finding the real buyer is almost tough from the flooded vendors. In this perspective, we can assure you giving the original products with installing and after-sell service warranty.
We are dealing with a lot of clients as we are committed to providing the best stuff. We are in this industry for more than 11 years. If you want to purchase our products from anywhere in Bangladesh, we can deliver them to your location. You can visit our website to know access control prices in Bangladesh.
FAQ on Access Control Bangladesh
What is the best access control brand?
Virdi access control, Nitgen, Zkteco access control is the best brand that manufactures world first-class access control system.
How to Install Access Control Systems
Most of the access control systems access control device has nearly the same process of installation. Without a few models, an ordinary electrician can install it rightly. Here we will learn the access control installation process. 
Unpack your access control and other equipment carefully so all the components remain in good condition.

Install pathways, closets, pathways, and terminals or cables.

If you choose a wired technology, lay the required cable. For wireless access control, install a wireless router at the destination point.

Now install a door lock at each door.

Next, install the sensor at the targeted points.

Install the main controller at the central point and connect by wireless or wire.

Now connect the power cable, if you don't use the PoE system.

Now supply power and test. 

Better to call an electrician who expert on this device.
What is the most secure door access system?
All-access control covers a wide range of door controls readers. There includes a reader that uses a PIN to get access. Another system is to use the card. From the most secured door access system, the biometric and facial recognition or fingerprint mechanized access control device provides the top security of doors.
Generally, the door readers come in PIN system that can be placed on every single door. Unfortunately, this not offers top security. Because if someone knows the pin and leaves your office, they can use the PIN illegally or for bad occurrences. Furthermore, you have to change the PIN frequently to remove the access from the left resigned employee. This doing is undoubtedly painful.
Do you think the card reader is more secured than the key system? We do not agree with you as this technology has also vulnerabilities. If someone lost his/her card, he won't be able to take access to the office. That is why you need to re-make the card again that indicated extra costing.
Even, if the card hand-over card anyone then anyone can use the card illegally. So this technology is not enough secured too. From the security angle, Biometric readers are best to capture the physical appearances of a person and ensure the most safety for door access control.
Why do I need door access management software?
In most access control, door access management software is compulsory to run the device. Only a few access systems allow entering user data into the device. But if you choose essential software, you can use it and maintenance with more convenience. 
The software virtually offers a central management system that let you enter the employee's data into the access control. By using this software, you can add new employees, member data, edit and delete data on demand. Otherwise, there are various features of the software.
Is it possible to use the smartphone for door access control?
Some door access control can be operated by Bluetooth connection to a smartphone. A smartphone is enough to use the device. This mechanism mainly works through wireless technology. To get such a facility, you need to buy a smartphone-supported door access reader.
Can you control an elevator with door access control?
To do this, you require specialized equipment. The elevator control system involves a door access reader and a special control box that covers a set of relays. The relays are utilized to regulate the buttons that can be pushed. The elevator control box connects with the buttons located inside the elevator and the electronics in the elevator device room.
The reader in the elevator controls what floors the person can reach. The reader can be a simple RFID type reader or a biometric reader. When a floor button is pressed in the elevator, the signal goes through the elevator control panel, and then to the elevator system that transfers the elevator.
Can I use the remote for Access Control System?
Yes, you can use your remote control to control the Electromagnetic Lock.
What are the accessories needs for the access control system?
The required accessories are a Lock, Brackets depending upon the type of door and space. Supply of 12 Volt.
What happens if any recorded card gets lost or stolen?
If any card is lost or stolen, you can deactivate the card from the system administrator of the installed software. Once deactivated the card, no one can use the card anywise.
What will be happening if the connected power is gone?
An installed backup battery can supply the necessary backup when the power is lost. S no worry whether the power is lost or not as you will get non-stop service.
Check Now: Best security products in Bangladesh
Final Word
The access control system is a great invention of modern technology that secures the property with reliability. You rarely find an organization that doesn't use this security system. In fact, most offices in Bangladesh are using the access control system to make their security stronger.
We are such a seller who is providing the complete solution of access control. We almost import and deliver the updated products that come in various features. Hope this article gave you a complete idea of access control. If you have more quarries or solutions about access control system Bangladesh or want to know access control system price in Bangladesh, you can contact us anytime. We love to hear from you.