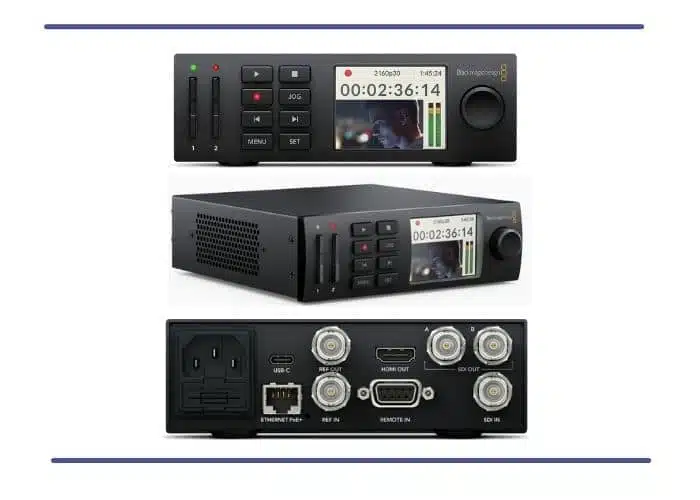 Blackmagic Design Hyperdeck Studio Mini in Bangladesh
Blackmagic design Hyperdeck studio mini is a portable broadcasting device that you can carry anywhere to run as needed. It has some significant features that recognized it as the demanding board caster to the users.
Do you know what features it has included? Here we will describe the features so you might realize whether this mini-studio would be worthy for you or not.
Buy Now
UHD 4K recording and playback
This Hyperdeck studio mini is apt for recording UHD 4K video. If you want to record the UHD 4K video then we suggest you pick this device. It records UHD 4K at up to 30 fps with supporting 720p and 1080p 4:4:4:4 file support with key and file outputs.
Video inputs
What if you can use multiple video formats on a single device? Definitely, you would get these advantages through this device. Yes, it supports SD, HD, 3G, and 6G signals over SDI. That indicates this device is worthy of boosted performance.
Supported codecs
It is supported by Apple ProRes 422 HQ quick time, ProRes 422 quick time, ProRes 422 LT quick time, ProRes 422 Proxy quick time. Can you imagine how versatile it belongs?
VTR style controls
It featured VTR-style front panel controls for recording and playback. The built-in jog/shuttle wheel provides analog style control over your playback system.
Built-in LCD monitor
The front panel of this Hyperdeck mini studio comes in front LCD display monitor. This monitor shows what you are doing on the playback. Meant, it shows the playback result on the screen.
Remote
You will get an RS-422 remote control over the Ethernet or USB port so the usability would be easier.
Software included
It comes with multiple software like media express, disk speed test, Blackmagic system preference, and Blackmagic driver software (only for MAC).
SHOP NOW: Blackmagic Design HyperDeck Studio Mini
Additional Features at a Glance
6G-SDI for formats up to 2160p/30
Records in Pro-Res format on SD cards
1 SDI video input
2 SDI video outputs
Supports playback of ProRes 4444 and recording of 422
External control via RS-422
Dual SD card slots for uninterrupted recording
Integrated LCD and control via front panel
Supports files in 720p and 1080p 4:4:4:4 with fill and key output, thus also
suitable as a source device for broadcast graphics for live productions
SDI rates: 270 Mbit, 1.5G-SDI, 3G-SDI, 6G-SDI
1 HDMI video output type A
PoE+ capable Ethernet port
Reference input and reference output (Tri-Sync or Black Burst)
Audio inputs and outputs: 16 Channels embedded in SD and HD in QuickTime
files (SDI) and 8 channels embedded in SD, HD, and UHD in QuickTime files
(HDMI)
USB 2.0 port type C for software updates and HyperDeck Utility software control
Storage medium type: UHS-II
From where to buy Blackmagic Design Hyperdeck Studio Mini in Bangladesh?
Though there are various providers in Bangladesh who sell this mini-studio, getting it at an affordable price with a warranty can be tough. In this regard, Olefins Trade Corporation can be your trustworthy supplier of these products.
We/ olefins trade corporation import genuine products from real manufacturers. So we assure you of providing the original products with quality assurance. To know more call us on 01979300940, 01719300940.
Why did you choose us?
We give 100% quality products.
We provide a warranty.
We import from real manufacturers.
We offer after-selling services.
We sell at reasonable prices. 
Final word
So you may choose this Blackmagic mini studio to achieve improved performance. We can provide you with this product at the lowest price so you can fill your demand within your tight budget.
SHOP NOW: Blackmagic Design HyperDeck Studio Mini
SHOP NOW: Blackmagic Design HyperDeck Extreme 8K HDR