Eye Wash Station in Bangladesh
Basically in the industrial areas, the first 10-15 seconds after contact with unsafe elements especially contact with the destructive substance are so dangerous. This kind of contact can be injurious for delayed treatment.
In this case, the emergency eyewash and shower station provide spot cleansing to protect eyes from permanent injury. This safety product allows workers to flush away precarious substances that could be very harmful to the eyes. On the other hand, accidental chemical contact can still happen even with good engineering controls and safety protections.
The emergency eye wash and showering can be used effectively to put off clothing fires and flush chemicals from clothes. In a word, this eye wash and shower machine offers great safety, especially in industrial works. The usage of eye wash station in Bangladesh is increasing day by day.
Where should have the eye wash/shower station equipment?
Work areas and operations that may need this equipment include:
Laboratories
Battery charging areas
Dipping operations
Hazardous substances dispensing areas
Spraying operations
High dust areas
Where the eyewash and shower should place?
This equipment should place where workers can access it very quickly. ANSI recommends the affected person must reach the machine within 10 seconds.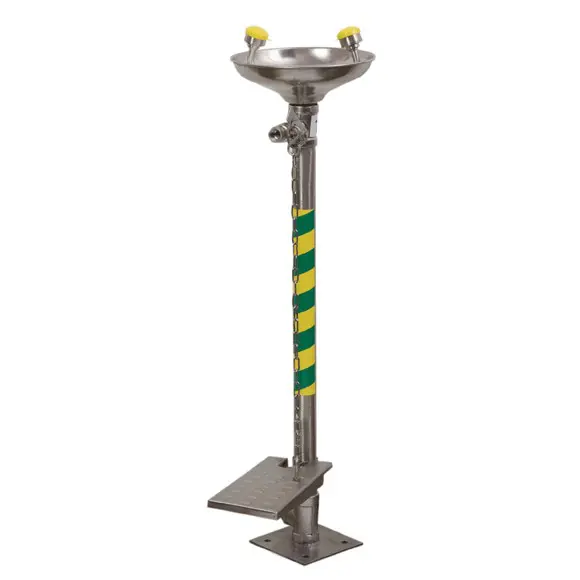 So this machine should keep a very nearest place of their working areas. ANSI said a person can walk 17meters (55 feet) within 10 seconds. If possible, place the machine as close as may place from their working spaces.
Additional recommendation for placing eye wash and showers-
Place as close as can to their working areas.
It should be exposed, should not have any partition between the working area and shower/eyewash station.
It should not place in any single room so works don't need to pass through doors or unlock door locks to use it. This is because it the critical time for the victim when they need instant flushing.
Should be located so workers can see it. Meant, it should be noticeable by all of them.
Should have at the same floors so workers no need to pass stairs, elevator and lift.
Place at the space where other workers can come forward to help the victim with using the eye wash station.
Locate where further pollution will not happen.
Should have a system for draining excess water.
There should not have any electrical equipment from where chances of occurring accidental issues for the electricity.
If install outdoor, it should be protected from freezing and dirt.
It should be clean always and the water source should be runny.
How long the workers should the contact area be flushed/rinsed?
Did you think ever if you get chemicals in your eyes how long should you flush with water? Actually, this is not specified how long the workers should flush the contact area. But the standard time is 15 minutes.
Yet someone thinks the time should be at least 20 minutes when the workers don't know what elements inserted into the eyes. The flushing time can be increased and decreased depending on the chemicals if workers know what actually gone to their eyes. This saying can be more meaningful by the example showed below-
For non-irritation chemicals, 5-minutes flushing.
For server chemicals and irritants that can be very dangerous for eyes and skin, a minimum of 15-20 minutes is enough.
For more corrosives, 30 minutes is a must.
For sodium, calcium hydroxide, and potassium, at least 60 minutes is required time to be safe.
If seems still the irritation is remaining, increase the flushing time till feel much better than before. Yet the victims should not rely on the eye wash/shower machine. Remember, it's for first aid. Consult the doctor after the first aid eye wash procedure if suffered from heavy irritation.
What temperature the water should be?
This is a common question for those who are using an eye wash. Basically, the water temperature should be 'Lukewarm". The temperature level should be between 16-30 °C (60°F). Higher than 38°C (100°F) are harmful to the skin and eyes.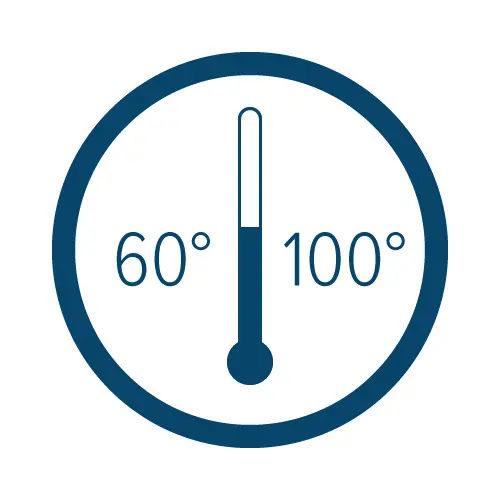 It can increase the irritation too. So keep the water temperature in the tolerable stage. Secondly, Flushing with less than 16°C (60°F) temperature water can be a cause of hypothermia. So be aware of using the water keeping in a safe temperature. Otherwise, would not get any benefits without further risk.
How to test, maintain and use an eyewash station?
To use an eye-wash and shower machine, there are some procedures that should follow. If you can test and maintain it properly, the use of eyewash will be more beneficial. Let's focus on eyewash station instructions.
Testing Your Eyewash Station
A good eyewash valve activates in a second or less and remains open until closed by the user.
The water flow should raise at least 6 inches long. Water should flow at the crossing position and fall on the middle of the eye washbasin.
Check whether both nozzles have the same water flow rate. Shouldn't have less water flowing.
Check whether it provides correct temperature water between 16-30 °C (60°F).
Maintaining Your Eyewash Station
Check it functions regularly whether is working well.
Check water flow testing at least once a week.
Change the water every 3-6 months for the gravity-fed station.
Check the given instruction and maintain by following the procedures.
Check the water supplying.
Using Your Eyewash Station
Give training to all workers on how to use eyewash and shower stations.
Activate the unit using the valve.
Keep eyelids opened using hands to flush.
Flush for time (Given above) for each chemical.
Eyewash station price in Bangladesh
The prices vary on the quality and features of the equipment. The only eyewashes built-in featured machine price is low than the eyewash station with shower system. Only eye wash's price starts from at least 10,000 Tk. Shower built-in eye-wash price starts from 20,000 Tk. These prices can be increased and decrease according to several facts.
From where get the eyewash station in Bangladesh?
We are an eyewash station supplier in Bangladesh. We have different types of eyewash stations and shower stations at affordable prices. We import our products from real suppliers/manufacturers. So we can assure you of providing the original product at reasonable prices. Do you have any queries? Don't hesitate to contact us? Our hotline is 01719300940. We sell different kinds of imported original products at affordable prices.