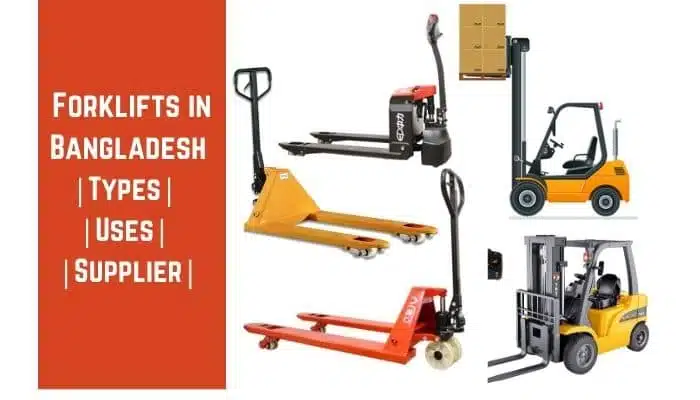 Forklift in Bangladesh | Types | Uses | Supplier
The usage of forklift trucks in industrial areas is increasing day by day. Not only for industrial purposes, but it has also been using for different places like industries, airports, has import/export ported, large shops, etc. It mainly uses for transporting goods or any heavy things from one place to another conveniently. In some countries, it is called also a lift truck, fork truck, jitney, fork hoist, forklift truck. It doesn't matter what's its name, its main purpose is to move heavy things here to there suitably.
In Bangladesh, the usage of forklifts has been increased remarkably. You rarely find basically an industrial company that doesn't use a lift truck. However, we will discuss the forklift, benefits, where to get it, and essential information.
The Types of Forklift
There are commonly 10 types of forklifts used for lifting and transport heavy objects. Each type has an individual capable of working.
Warehouse Forklift
Side Loader
Counterbalance Forklift
Telehandler
Industrial Forklift
Rough Terrain Forklift
Pallet Jack
Walkie Stacker
Order Picker
Reach Fork Truck
Unfortunately, some people get confused about what type they should choose. For those people, we have garnished this part of the article about forklift types. Let's focus on the types that will help you understanding which type you exactly need.
Warehouse forklift
This is type is the most known type that usually uses in many places. Its structure is a yellow golf cart with twin forks spreading from the front. You will see this kind mostly use for a large number of items in the list. This pallet truck is abundant for loading and unloading any balanced materials and pallets. Also best for unloading vehicle's item.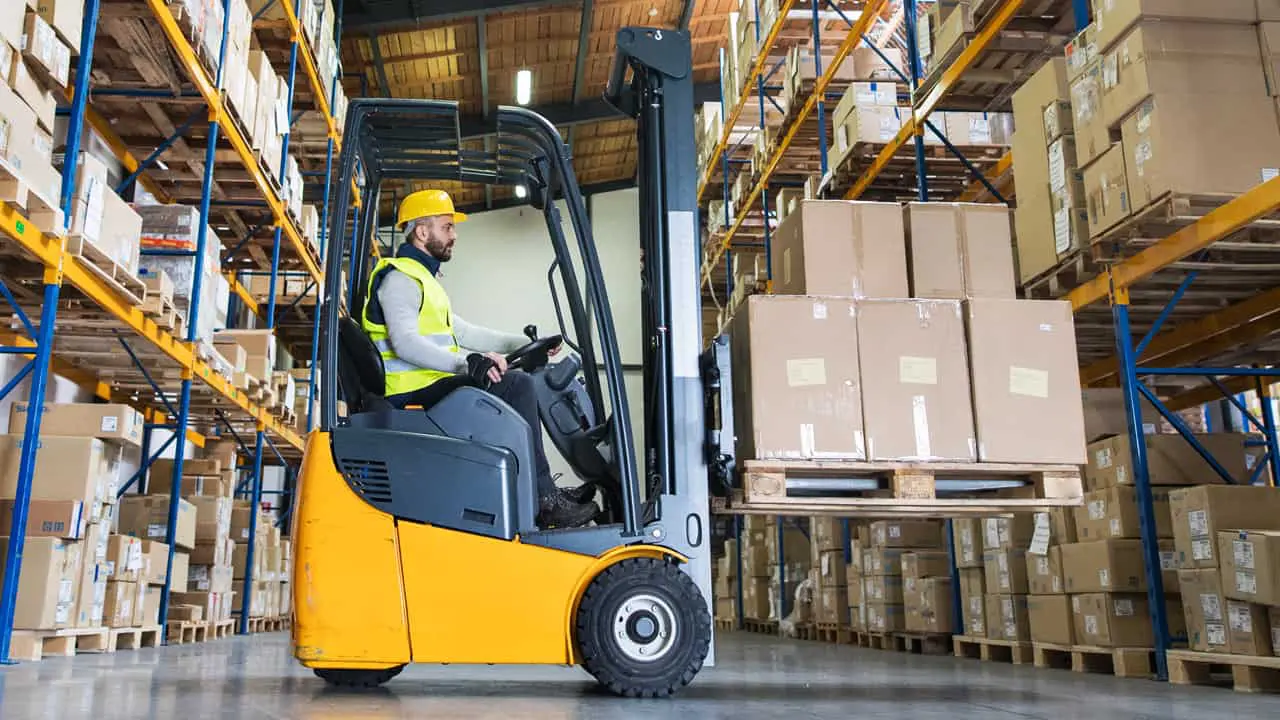 Generally, most warehouse pallet trucks can lift to 5,000 lbs weight. Moreover, some are super powerful that can lift to 25,000 lbs weight at a time.
Most industrial forklifts can lift 5,000 lbs of weight, but some heavy-duty models are capable of elevating up to 25,000 lbs. In this type, there are subtypes forklifts like side loader forklift and counterbalance forklift. We are a forklift supplier in Bangladesh. You may choose us as your reliable source.
Side loader
The side loader type forklift is usually found in a steel service company to get a manufacturing facility for the heavy item. An operator stands in a sideway section and the forklift unloads materials. As it's a work in sideway, this equipment can simply raise beside racks and can load and unload without turning. This type is apt for navigating narrow aisles and moving long objects such as timber and pipes.
Counterbalance forklift
It's another popular forklift type featured in forks in the front and weight adjustability by sitting in the vehicle to counterbalance the load weight. It has no extended arms that give it a direct load. 3 types of counterbalance like-
3-wheels variant: Ideal for turn and maneuver in a circle mode by the operator.
Standup counterbalance: Allows operators to hop on and off between loads.
The manufacturer of these forklifts are Mitsubishi, Toyota, and Crown. They are the most popular brands for these types.
Telehandler
It's also recognized as a telescopic forklift or reach forklift. It has an extendable and boom arm to reach up. It is actually a combination of a crane and forklift so you would get both advantages from it. Its twin forks are attached to the ram to move pallets off the ground.
The all-terrain telescopic forklift is usable on all kinds of terrain. This equipment can lift to 5,500 lbs of objects at a time from up to 19 ft up. It could be a canny choice for reaching to the odd angles and tight spaces. Check forklift all-terrain for sale in BD on our website.
Industrial forklift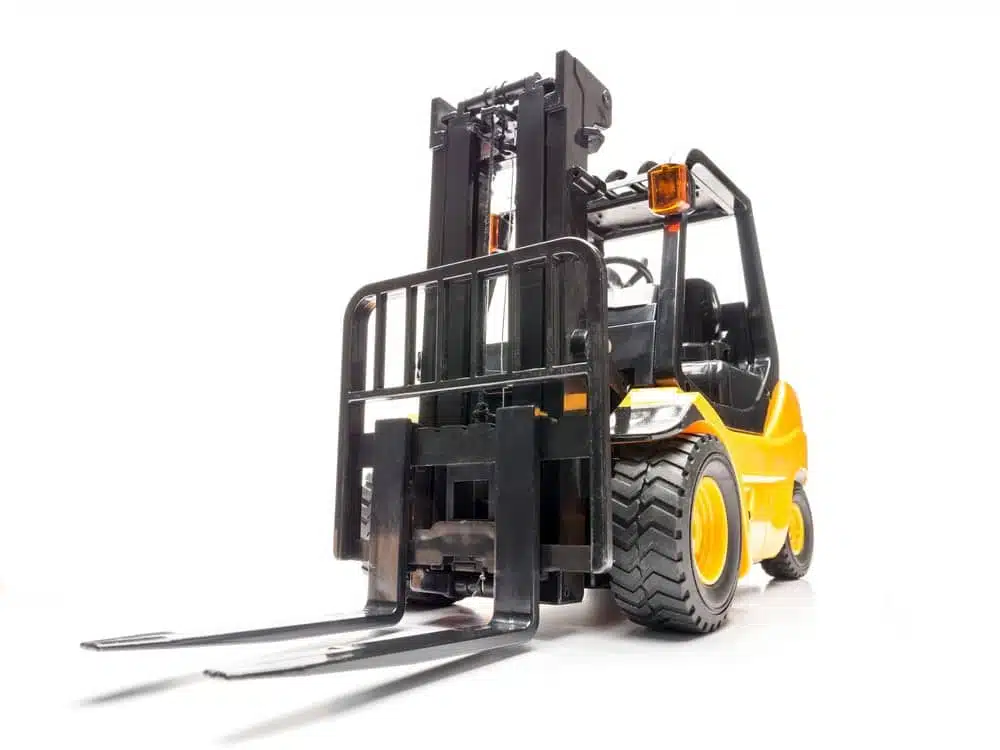 It can transport a large weight of materials. It's a combination of telehandler and warehouse forklifts. It can tolerate up to 30,000 lbs weight. It can help you providing both telehandler and warehouse forklift facilities.
Rough terrain forklift
People also call it a straight mast forklift. It mainly uses for outdoor job sites, particularly on uneven surfaces. This forklift truck has sturdy inflated tires that help the operator to maneuver the truck on stony ground. Each tier has the power of moving safely on uneven spaces and keep balance correctly. Those companies that work outside of the warehouse, might choose this type.
Pallet jack
It is also known as a pump truck. Its small size doesn't allow to load heavy materials. It has a small footprint to reach to the tiny areas where a large forklift can't reach.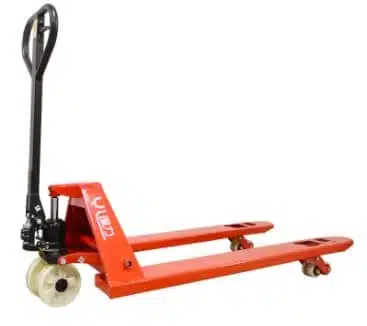 It allows to lift small load but is very operative to transport objects within a warehouse. There are mainly 2 type's electric pallet truck and manual. The manual type is less in price and saves electric bills too.
Walkie stacker
Like the other forklift, this equipment doesn't have cabs. The operator walks staying back of the stackers and stress using the attached handle. It is suitable were to want a taller pallet jack. It can reach much higher off the ground even than its full structure.
Order Picker
It's a subtype of walkie stacker that is convenient to pick and deliver materials from storage. It can be reached a maximum of 32 ft. high. Its structure is specially designed to lift up the operator to pick materials suitably and carry separate objects.
You might choose this one for the consumer order where need to pick a single object from storage instead of picking a large quantity. It comes in different patterns that allow users to materials according to the size, type, weight, etc.
Reach fork truck
This type of forklift used specifically for indoor work. The main feature of it is extendable forks beyond the compartment that reaches the warehouse racks that usually a regular forklift cannot. So you might easily choose it for indoor purposes, not outdoor for having undercarriage clearance.
How to Choose a Forklift
Before finalizing a forklift you need to determine how the equipment would be used. In this section, we have focused on some criteria that you should emphasize to get safe and efficient performance.
Know what capacity you will need. Meaning, how much weight you need to lift because there are different capable forklifts.
Know what material you will use it. It means some materials require storing upper position and some need low position. Depending on this regard, you might need a high-reachable forklift or regular type.
Determine the maneuver areas. It indicates the path where the forklift will maneuver to load and unload materials. Choose a type that can go to the destination areas.
There are gas and battery-powered forklifts, think about what type you need.
Examine the maneuvering surface whether it is smooth or stony. This is very important since there are forklifts both for running on the uneven and smooth way. A rough terrain forklift allows users to maneuver on stony ground/outdoor.
From Where to Buy Forklifts in Bangladesh/ Forklift Importer in Bangladesh
Getting the right model is a challenge from the unlike types. But in this perspective, we (Olefins Trade Corporation) can assure you of providing the best forklifts in Bangladesh. We sell various types of pallet trucks/forklifts at a cheap price. If you are unstable on what type you need. Simply call us at 01719300940 to know forklift truck price in Bangladesh with getting a suggestion. We take both single and large numbers of orders. Check this link to know the manual forklift price in Bangladesh.