Hand Pallet Truck in Bangladesh
People know the pallet truck as different names such as pallet jack and pump truck too. It is mainly used for lifting and transporting heavy pallets. It works utilizing tapered forks that slot under pallets. As a result, the users can use the pump handle to raise and lower the loaded pallets.
This equipment is greatly useful for the stockrooms where need to load and transport pallets in a large quantity and it is apt for the industrial areas.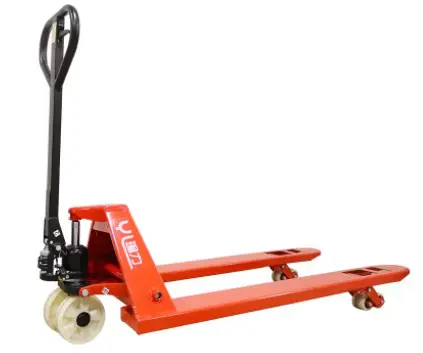 Check Price
It's also suitable for transporting pallets within a short distance like the A-warehouse section to another warehouse. It can bear a large load that usually bear a motor truck. Meant, it looks like small equipment but has superb loading capacity.
As you can load it with heavy materials but you should be careful not to exceed the weight capacity if you want to get a smooth usage. This machine works greatly till you use and maintain it by obeying its given precaution. Once you loaded things more than their capacity, you possibly would lose the actual performance. There is no critical procedure to load a pallet truck. Only need to place the load securely to avoid danger. Once you loaded things correctly then raise the fork and move here to there.
Different Types of Pallet Truck
There are various types of pallet trucks use for industrial purposes. This variation depends on the quality, capacity, types, prices and etc. In this section, we will focus on the types.
Manual Pallet Truck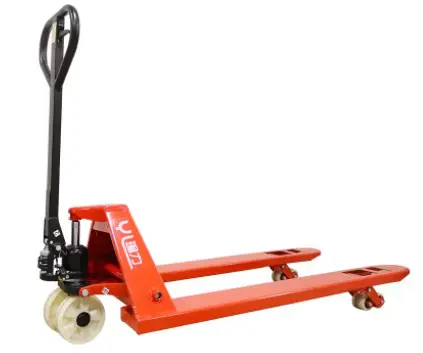 It works manually, meaning no need to use electricity. Though most of the warhorses use these manual types at present many industries showing interest in verities types.
Electrical Pallet Trucks
The electrical types work using electric power. It is an upgrade invention of manual types. Still, many industries use manual types but most of them are switching to electric pallet trucks. It reduces both time and hardship. It transports loaded things very quickly from one place to another.
Things You Need to Know About Using Hand Pallet Truck
During loading pallets, keep feet clear on the wheels.
Never exceed the limit of loading capacity. If you are not the capacity limitation. Look over the capacity plate to ensure.
Try to use straps to avoid sudden slipping or falling pallets when loading.
When transporting heavy things like any metal things, better to chain or strap to avoid unexpected incidents.
Move the load forward slightly so the tongue goes under correctly.
Maneuver the trucks gently on the plane surface.
The Hand Pallet Truck suppliers in Bangladesh 
To get the original hand pallet, you want to find out a reliable source. Though you might find many suppliers in Bangladesh, it's not sure whether they will offer you the best pallet truck at a reasonable price. So make sure from where you are buying this equipment. From this perspective, we can assure you providing high-quality hand pallet trucks. We also sell electric-type trucks at an affordable price and are committed to giving you genuine products. For more information, you may contact us on our hotline  01979-300940, 01719-300-940.