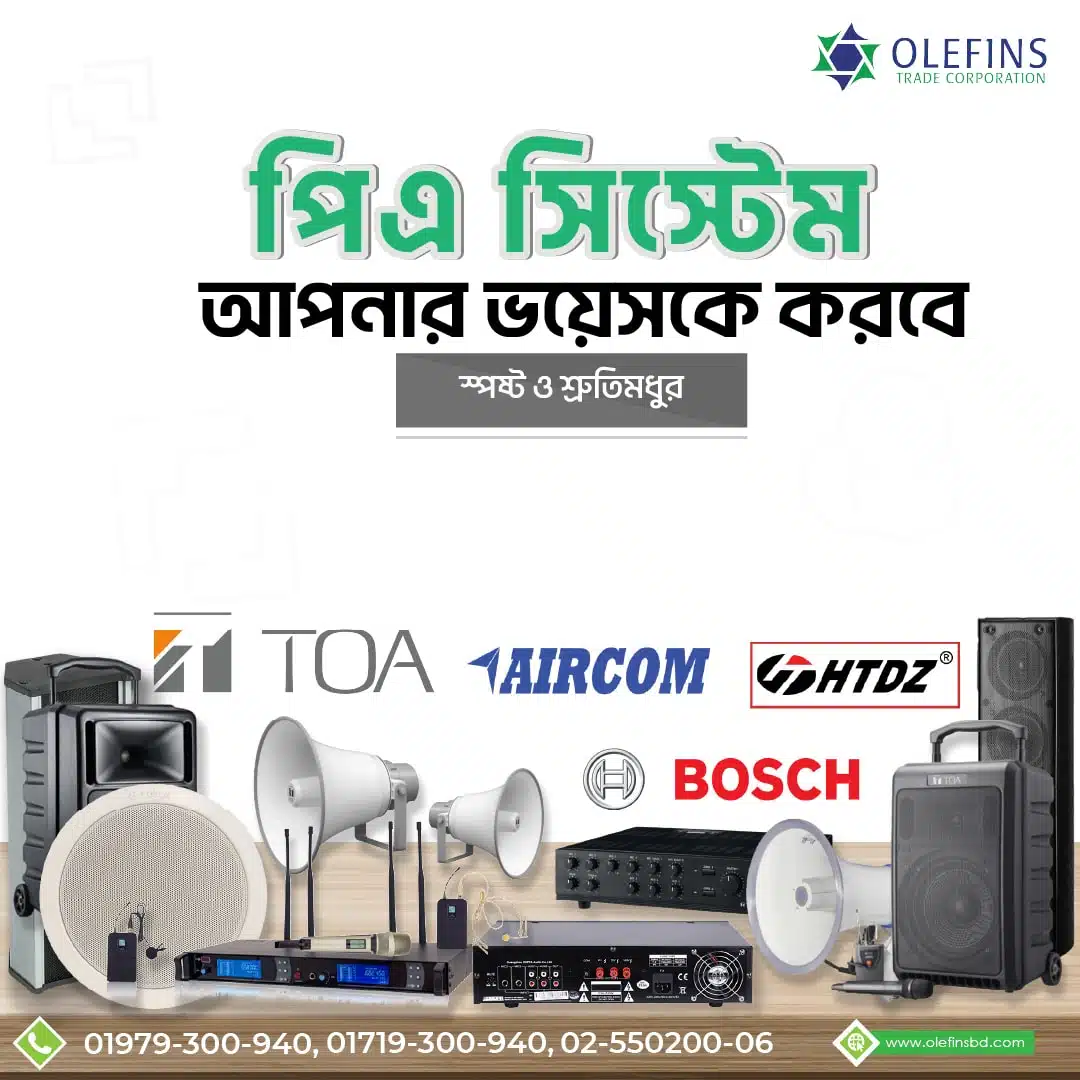 PA System In Bangladesh
What is PA System?
PA System means Public Address System. If you want to announce or play music loudly you need the best Quality PA System.
Which PA system brand is Popular in Bangladesh?
In Bangladesh Many international brands are popular. Like TOA PA System, BOSCH PA System, ITC PA System, AHUJA PA System, and many more brands.
How to Work PA System?
PA System run by Some PA Speaker and PA Amplifier. One 120 Watt Amplifre can connect different types of Speakers but not exceed 120 Watt.
Who is the End User of PA System?
Actually, PA System End user is Factory, Rail Station, Bus Station, Masjid, Class Room and many more public assembly area.
Who is the Best PA System supplier in Bangladesh?
PA System Supplier in Bangladesh one of these Olefins Trade Corporation is one of the Best PA System suppliers in Bangladesh.
How much does a full PA system cost?
Depend on the Requirement of PA System Speaker and Amplifier. Cost about 50,000 Taka to 80,000 Taka. But the price may differ if you change the brand.
How do I find the right PA system?
If you want to install the perfect PA System in your site, you must survey the full area with an expert. Full area total watt requirement the add actual watt amplifier.
Does a PA system need an amplifier?
Yes, You must need Mixer or Power Amplifier
What components are typically included in a PA system?
A PA system typically includes a mixing console, amplifiers, speakers, and microphone(s).
What are PA systems used for?
PA systems are used to amplify and distribute audio signals to a large area or group of people. They are used in a variety of settings, such as concert venues, conference centers, schools, and public places, and can be used for live music performances, speeches, announcements, and other audio events.
QHow do I set up a PA system?
Setting up a PA system can vary depending on the specific equipment and layout of the venue. Typically, you would connect the mixing console to the amplifiers, and then connect the amplifiers to the speakers. You would also set up the microphone(s) and make sure they are properly connected to the mixing console.
Can I use a PA system for a small event?
Yes, a PA system can be used for small events. However, you will want to make sure that the system is appropriately sized for the venue and number of people.
How many speakers do I need for my PA system?
The number of speakers needed for a PA system will depend on the size of the venue and the number of people you expect to be in attendance. As a general rule, you will want to have one speaker for every 100-150 people.
How to connect a microphone to a PA system?
To connect a microphone to a PA system, you will typically need an XLR cable. Connect one end of the XLR cable to the microphone and the other end to an XLR input on the mixing console.
How to connect a laptop to a PA system?
You can connect a laptop to a PA system by using a 3.5mm audio cable or an RCA cable. Connect one end to the audio output of the laptop and the other end to the audio input of the mixing console. Alternatively, you can use a Bluetooth or wireless connection.
PA System Price in Bangladesh Latest Price – 2023