Description
ITC TS-8308 Paperless Media Server Server Specs:
Standard cabinet design (2U), embedded HD, SD video signal processing module, synchronous, asynchronous processing of video signal input, and output.
Support HDMI, VGA signal input, an external signal can broadcast a real-time screen to all-conference terminals and synchronously display through this interface.
Support HDMI, DVI signal output, any of the conference terminal images can output to the main screen or other video signal display device through this interface.
Support signal format automatic conversion function, it can convert the network data signal into the digital signal, or automatically convert the digital signal into network signal.
Support synchronization with the venue signal tracking function. When the venue has a synchronization signal, it will keep real-time tracking and synchronously output to the output interface; when the venue doesn't have a synchronization signal, there is no image output from the output interface.
| | |
| --- | --- |
| Product Model | TS-8308 |
| Power Consumption | 19V DC/120W |
| CPU | I5-4460 |
| RAM | 4G DDR3 1600 |
| Operating System | Windows7 |
| Weight | 4.0Kg |
| Network Card | Gigabit Ethernet network interface |
| Working Environment | Environment temperature:5℃~40℃; relative humidity:≥75% |
| Colour | Black |
| Dimension(mm) | 484(L)×88(W)×301(H) |
| Hard Disk | 64G BIWIN |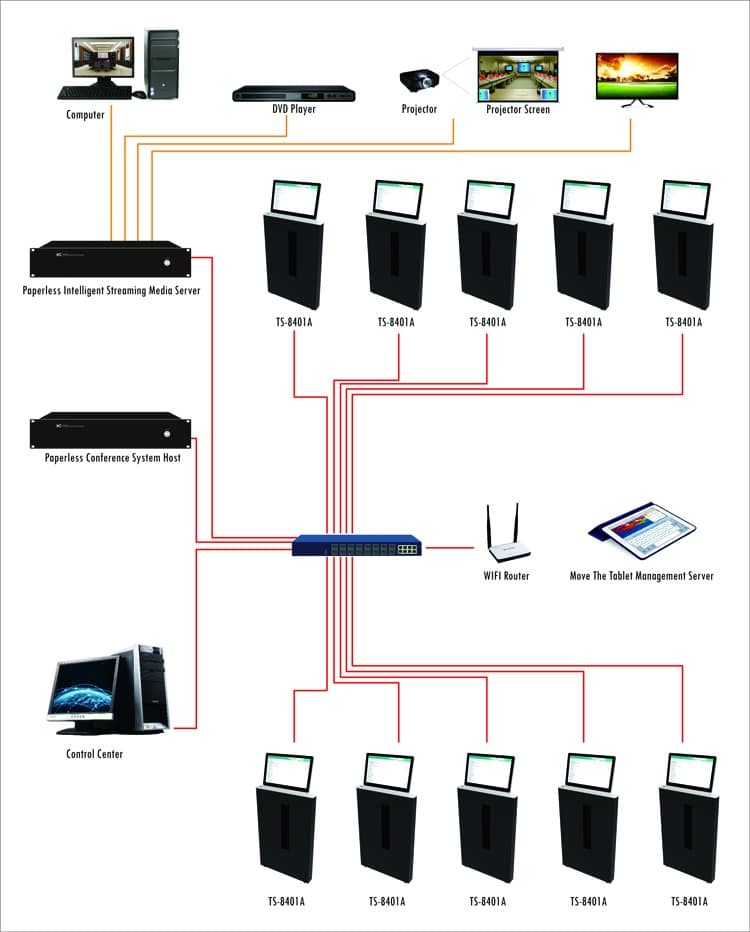 Product List:
(A) TS-8300   Paperless Conference System
(B)TS-8401A  Intelligent 15 degree lifter
(C)TS-8308   Paperless Intelligent Streaming Media Server
(D)TS-8201   Ultra-thin 15.6-inch Paperless Capacitive LCD Screen Lift