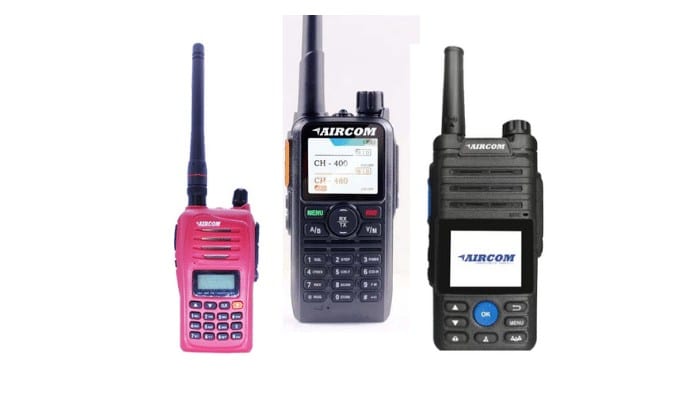 Walkie Talkie in Bangladesh | Get the Details Info
A walkie-talkie is a handheld device that allows two or more people to communicate at the same time where the other device can't work fast like this. In the case of emergence, this device is essential to communicate or alert someone about anything.
It is a widely used device that is called by different names. In some countries, it is called Walkie-talkie. Besides, someone calls it hand radio and handheld transceiver (HT). No matter what the other people call it, its main purpose is to communicate with each other within a specific area.
Are walkie talkies safe?
As the walkie-talkie includes a high number of channels to connect the enlisted people at the same time. Therefore, this is a rare case to occurs any unwanted incidents through walkie-talkies.
In fact, you will find the manufacturers are producing child-safe walkie talkie that keeps your beloved kids out of receiving unwanted communication.
Is it possible to use a walkie-talkie anywhere?
Literally, it is possible if you obey the rules have given by the government of the location where you want to use it. Yet most of the countries permit using walkie talkie but the users require to follow the given rules and regulations.
The Facts About Walkie Talkie in Bangladesh
Is walkie-talkie legal in Bangladesh?
Essentially the government of Bangladesh permits to use of walkie-talkies if you have to take a license from the authorized organization or walkie-talkie dealer in Bangladesh. Only Bangladesh Telecommunication Regulatory Commission (BTRC) provides the walkie-talkie license.

Though many walkie suppliers in Bangladesh sell walkie talkie they don't have the right of providing the license without authorization from BTRC. At present, you might find various sellers/vendors offer licensed walkie talkie but they collect the license only from the BTRC.
Though many walkie suppliers in Bangladesh sell walkie talkie they don't have the right of providing the license. At present, you might find various seller firms offer licensed walkie talkie but they take the license only from the BTRC.
Read More: Get the Real BTRC License by Us
What is the price of a Walkie-talkie in Bangladesh?
The Woki Toki price in Bangladesh varies on types, rang, features, and other factors. But its current price range begins from 6000 to 40000 in Bd.
People buy it based on features and coverage areas. To cover a large area or communicate with people within a large zone, choosing a walkie talkie comes in large area coverage can be canny. But for this, you should have a smart budget.
For covering a small area like an office or one point to another point, less coverage capable walkie-talkie is perfect. However, which model would you like absolutely depends on son you. You may check our website or call us to know the walkie-talkie price in Bangladesh.
May I use a walkie-talkie privately in BD?
No, using walkie talkie for personal usage is absolutely forbidden. Only organizations who want to communicate with their remaining employees, can use it.
But taking a license from BTRC Bangladesh is a must if you really want to operate it legally. On the other hand, you need to renew the license if it is already expired. Otherwise, using for private purposes might lead you to legal hazards. Better you use it for the official purpose, not for personal.
The types of walkie talkie in Bangladesh
Well, two types of walkie talkie are available in Bangladesh-
A walkie talkie with a frequency base ( works with Antenna)
A walkie talkie with SIM and wifi
Antenna System: It virtually works using an antenna located upper side of a walkie-talkie. Having the antenna specify it will work based on frequency.
SIM and wifi System: It mainly works depending on SIM and wifi. People are choosing this type of walkie-talkie for having a large area coverage and also seamless for carrying to the location where is available wifi and SIM network.
Where can I get a walkie-talkie in Bangladesh?
Getting the walkie-talkie from the trusted seller is very important to avoid any future legal issues. Olefins trade corporation is the most reliable walkie-talkie shop in Bangladesh that supplies genuine walkie-talkies. They also run a website named OnlefinsBD.com so you can find them online.
For your information, if you wish to get both a walkie-talkie and license then we are here to help you. We (Olefins Trade Corporation) are committed to providing the best walkie-talkie at affordable prices. In fact, we are the walkie-talkie shop in Dhaka authorized by BTRC.
So we can assure you the best item with a legal license. You can call us or visit our website to check several kinds of models.
Note: If you are unable to realize what model will be beneficial for you, simply call us or come to our office. We will hear from you and suggest you get the best item.
Conclusion
However, walkie-talkie in Bangladesh is getting fame for having some incredible features of communication. You can buy it to communicate with others to talk and alert them instantly. We provide a complete solution for the walkie-talkie. If you need any help with this device or want to buy it, we are available to help in this regard. Do you have further queries? Just place the comment below. We will love to hear from you.