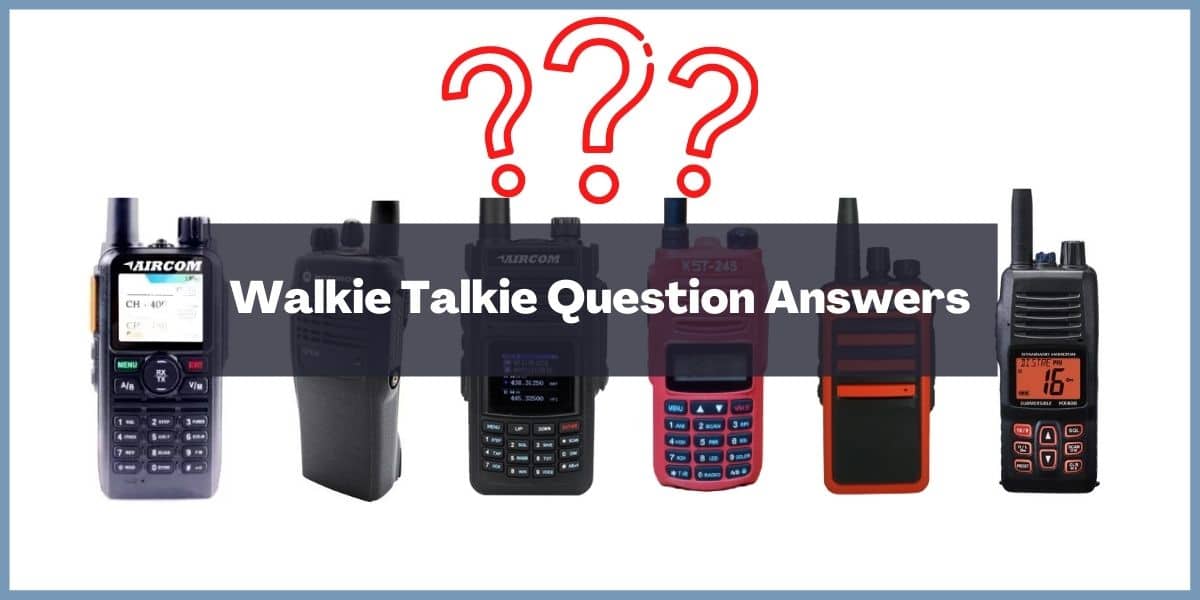 Walkie Talkie Price in Bangladesh and All Information
Nowadays, the walkie-talkie is the most demanding equipment in Bangladesh for instant communication. It has versatile benefits in the industries that need very urgent and instant communication in a specific area. We know there are a lot of queries online about walkie-talkies. We tried to clarify the questions in this article.
Question's Answer About the Walkie-Talkie in Bangladesh
What is walkie talkie?
The walkie-talkie is a device that is used for instant communication in certain places. It's one kind of two-way radio system. It mainly works using frequency to transfer each conversation.
How many kilometers is the coverage of the walkie-talkie?
It's not fixed how many kilometers it will get because it depends on the version and models. But in Bangladesh, the regular walkie-talkie covers approximately 1-4 kilometers. Barriers or obstacles between the communication areas minimize the coverage capacity. More open spaces give smooth communication.
On the other hand, if you need more coverage areas, then you require to install a base set and repeater device but this process is highly expensive and the Bangladesh gov. has very hard and fast rules on this. You need a different license than the regular types. We would discuss the license below.
Who can use the walkie-talkie in Bangladesh?
Any government or non-government organization/company can apply for the walkie-talkie license. After getting the license, they can start using it legally. Remember, a legal company can apply for the license, otherwise, BTRC will deny the application. Without a license using a walkie talkie illegal and there is a law of fine maximum of 300 cores.
Who can't use a walkie-talkie in Bangladesh?
Any single person won't get a license for personal usage. BTRC only allows licenses for any legal company. We found many peoples think only getting the license is challenging but can use personally. They are wrong and this is illegal too.
Why BTRC doesn't provide a license to a person?
Despite having versatile advantages, there are also disadvantages of walkie-talkie too. There are numerous causes for this like criminal issues can be happened very easily.
Yet, if you are certainly determined to use the walkie-talkie for personal activities, then BTRC will take an exam on practical and theory knowledge after publishing a yearly notice. If you pass, you will get permission to use a non-commercial walkie-talkie. For this purpose, a police officer will verify you're approved. In this case, we just can help you by importing the walkie-talkie after getting the approval by yourself.
May I get walkie talkie for my small business?
No matter what size of your business is, it matters whether your company is legal or illegal. Meant, your company can easily get the license if all the necessary documents are correct.
Some of the documents need to be up to date too. Yet giving the license or denying depends on the BTRC. But according to our experience in this industry, when all licensing processes get completed correctly, there is 99% chance of getting the license.
Which documents need to apply for the BTRC license?
A total of 10 types of the document needs to apply by going to BTRC physically and then applying online-
Pay order 6,325 tk. (one time) from any local bank.
Trade license (up to date)
Income tax certificate
BIN certificate
NID of the applicant
Application form/forwarding letter
Declaration for
Frequency form
Network plan
A color catalog of the walkie talkie model
How many days need to get the license?
The total licensing procedure takes 30 working days to be completed. But it can be delayed depending on several reasons. Yet 60 working days is the maximum time to get the license.
Do I need to renew the walkie-talkie sets?
Of course, after getting the license you have to renew the sets yearly. The yearly renewal charge is 690 tk. (Including VAT & AIT) and payable in advance. As an example, if you use 10 sets, the yearly renewal charge will be 690*10 = 6,900 tk. You need to make the payment by paying the order to BTRC.
Are there any restrictions on the brand and color?
Yes, there is some restriction from BTRC. BTRC restricted the full black color sets for the private company. But you can use combined colored sets, not full black. Plus, for the private company, there are some brands you have to avoid like Motorola, Kenwood, etc.
But no worry about this because there are frequent brands that are enlisted by BTRC like Aircom, Vetexplus, and KST. These brands have numerous models according to their performance and features.
Which brands should I choose without the restricted brands?
We have mentioned the 3 brands Aircom, KST, and Vetexplus. These sets are heavy-duty and offer you a long time of smooth services. Otherwise, you can choose other brands such as Motolink, Iradio, etc. Make sure the walkie-talkie sets you're choosing are registered by the BTRC.
May I merge a specific frequency with a different frequency?
This is the most asked question we receive regularly. The answer is "NO" To merge your existing walkie-talkie with the newly purchased sets, the frequency must be the same.
As an example, if you have frequency 245-246 then you have to choose the sets has the same frequency range. VHF (Very High Frequency) and UHF (Ultra High Frequency) never get merged as their configuration and frequency range are different.
Can I merge a specific model with another model?
Technically yes, no matter which model or brand the sets are if the frequency is the same then you can merge.
What should I do when my walkie-talkie is lost?
To avoid any legal harassment in the future, you need to make a General Diary (GD) in your local police station. There is a chance of misusing your sets, better if you make a general diary.
From where may I get the walkie-talkies in Bangladesh?
There are some listed vendors by BTRC in Bangladesh who provide walkie talkie. You also will find many vendors who are essentially not enlisted. You may fall into a trap or hassle after buying from them because most of them don't have legal import documents. Without the legal import document against your sets indicate you're illegally using the sets.
Are there any vendors who help with the licensing?
Yes, you will get them. In this case, we can help you from first to last until you get the license. We are a BTRC registered vendor who has been working in this sector for over 12 years. We also legally provide walkie talkie and we provide the ultimate solution of the two-way radio system.
What does the license cost?
The BTRC one-time license registration fee is 6.325 tk., yearly station charge for each set is 690 tk. As an example, if you want to use 10 sets then the total gov. charge will be 6,325+690 * 10 = 13,225 tk. Further, if you want us to process all the documents and help you to get the license then our consultation charge is 15,000 tk. extra.
For renewing the license, you have to pay the same station charge by applying. And we also help to renew your license. To do this our consultation charge is 3,500 tk. only.
I have some walkie-talkie sets, if I purchase some new sets, can you merge/synchronize with each other?
Yes, we can help regarding this. First of all, we need to make sure the existing sets and new sets are the same versions as VHF (Very High Frequency) and UHF (Ultra High Frequency). The same version can be merged but sets from different versions can't be merged anywise. For your information, we charge 500 tk. to merge each set.
How many days warranty of walkie-talkie?
For any kind of model and brand, we provide 1-year service warranty and 6 months battery warranty. We have our own servicing department, so we can provide the best and early service as needed.
You can contact us by –
Hot Line: 01979-300940, 01719-300-940
Telephone: 02-55020006;
Email: info@olefins-trade.com
Office Address: Suite No: 207, House No: 5/16, Humayun Road, Block-B,    Mohammadpur, Dhaka-1207, Bangladesh
However, we hope you got all the answers that usually arise in the mid. Still, if you have further questions on the walkie-talkie price in Bangladesh or with anything else, you can directly contact me at 01999939241. I'm here to help you with all about walkie-talkie/two-way radio in Bangladesh. Thank you so much for staying with us.