What is Conference System and Buying Guide
A conference system is a set of equipment for holding a conference or speaking in a meeting. There are several types of equipment need to host a meeting for speaking in a number of peoples like a microphone (Gooseneck type table microphone) and a central unit for controlling the set of microphone that numbers is chosen by you. However, There necessary needs cable to connecting each piece of equipment with each other. This total system is called a conference system that includes multiple devices.
Types of Conference System
You would find mainly 2 types of conference system like wired and wireless conference system. If you choose wired type then you will have to connect each device and with control unit by wire. Secondly, choosing a wireless type gives a smooth use where wired system messing wires altogether. As the wired type gets connected by wire, the unlikely wireless type works without wires using an access point. The access point connects all the units and central unit by Wi-Fi network system. That's why no headache of arranging by wires, even this system is very easy to install and use.
On the other hand, there is a video conference system. This system works by the set of microphones, PTZ camera, and the central unit. With this system, you can connect the remote peoples for the meeting. The people from another side can see you by the camera. This camera is a built-in automatic system. Meaning, who will start speaking, instantly the camera will focus on him/her automatically. No need to aim the camera manually at the speaker.
What equipment is needed to be a complete conference system?
A complete conference system has 3 parts as a central unit, the chairman unit, and the delegate unit. Each of the items is part and parcel of a complete conference system. Let's know in detail about the 3 parts.
Chairman unit: This is a device or gooseneck microphone used by the chairman host of the meeting. If he/she uses it then only he/she can control who will speak or not. He has the power to switch on and off of the other speaker as he is hosting the entire conference.
There is 2 button in a chairman unit. In brief, the chairman unit has 2 buttons one for start speaking and the second one is for turn-on and turn-off the other speaker. That means the power of controlling the other speakers has only the chairman unit user. Most of the time, the office boss or who hosts the meeting uses the chairman unit in a conference meeting.
Delegate unit: Delegate unit is a device used by the other speakers without the chairman/boss/host.
The chairman gives permission of speaking to his chairman unit. Then the spear starts talking. There is a single button on the delegate unit.
Central Unit: This is a device that controls the whole conference system. All delegate units and chairman units get connected to the central unit.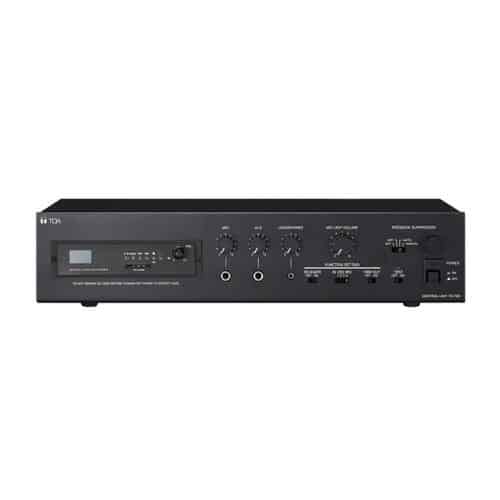 # TOA TS-780 Central Unit for Conference System
The benefits of the conference system
Well, you have set up a room with a conference system. Do you know what the benefits are? Certainly, there are numerous advantages of the conference system. Let's talk about it.
Decrease meeting time: You know in a meeting, there is a microphone in front of each other. So no need to wait. As soon as a speaker finishes his talking, another person can start speaking. Using a traditional single microphone keeps awaiting for people to use the single mic. Further, when a speaker speaks, others know who is talking because the mic of the current speaker will be lit. So no time wasted to find out who is actually talking.
Make conference more valued: Yes, a conference microphone has multiple features like muting, volume adjusting, voting option, and speaking time control. This feature allows a chairman to operate the meeting very smoothly and successfully.
Increase engagement: A conference system use speaker, amplifier, and microphone that affects go to a wide area. As a result, the audiences pay more attention to the conference.
Consideration of buying conference system
There are several factors you should consider before buying a conference system to get great value from it. In this section, we have explained some factors that you shouldn't ignore.
NumberS of persons in a meeting: In a meeting, you probably have the exact numbers of the person who especially uses the delegate units. Better you defined the speaker's number and then buy delegate units so all can use it aptly.
Video or Audio: At present, most of the company/organizations adopt both audio and video conference systems for remote and present usage. You have to decide how you could use it. If you choose a video system to meet remotely, you will need some extra equipment like cameras, whiteboards, etc. But only for the audio system, chairman, delegate and central unit is adequate.
Quality: Certainly, quality is an important consideration when choosing a conference system. A low-quality system gets disconnected suddenly during meeting time. This is really annoying, even sometimes some unit works and some get damaged.
Where to buy a conference system
From the flooded brands and sellers, it is almost hard to find the best products. In fact, the budget is another matter for getting a quality conference system. In this perspective, we (Olefins Trade Corporation) can assure you of giving the best products even with installation facilities at the lowest price. Now you may ask how we could provide these at a reasonable price. Because we directly import from the real manufactures/suppliers. As a result, our costing is low so we can sell it at affordable prices. Call us at 01719300940 to know more.
FAQ
Does your shop sell different types of conference systems?
Yes, a have a complete solution to the conference system. You will get both an audio and video system
Do you provide installation service? 
Of course, we do it. If you buy from us, we would provide installation service instead of minimum cost.
Do you sell international brands? 
Yes, we sell only different brands with a warranty. We don't sell any local brands.
Where you have provided a conference system before?
We have provided this system to several governments and non-government companies/ organizations such as-
Civil Aviation (airport)
SARM Associates Ltd.
Ali technologies
Rajshahi Divisional Office
Rangpur Dc Office
Conference System
Office Of The Deputy Commissioner Chittagong
Noakhali Dc Office
Local Government Engineering Department (LGED)
Health & Family Planning Ministry
These are some examples. We have supplied to different companies. To know it, check our client list. To know it, check our client list.